My Book Reviews
Five Stars +++
During her sophomore year at college, Jacqueline is unceremoniously dumped by her high school boyfriend who envisions greener grass with other women. Lost and newly single, Jacqueline is attacked and nearly raped by her ex-boyfriend's frat brother. Lucky for her, someone is keeping an eye on her.
Even though she is heartbroken, Jacqueline is oddly attracted to her rescuer, Lucas, and she determines to make him her rebound affair, but the more she discovers about the quiet man with a dark past, the harder it becomes to keep him a casual affair.
Easy is hands-down the best book I read in 2012. In fact, it's the best book I read three times in 2012 – since September. I actually purchased the book to load up my daughter's Kindle for her two-month trip to Europe. She probably read it as many times and loves it as much as I do.
I really can't say enough good things about this book. The characters are amazing. I want to rescue Lucas… Love him and Jacqueline. The supporting characters are equally strong. Webber's writing skills blew me away. Lines like, 'Over a guy I barely knew, with whom I'd exchanged more saliva than sentences,' and, '…with a look she usually reserved for ill-mannered steakhouse patrons,' make me aspire to be a better writer. Fantastic description and a beautiful story are what made this a book I will continue to re-read for years to come.
Oh, and my daughter and I are signing up for self-defense classes. 😀
Five Stars ++
Nine year-old Cosette carries the weight of the world (or at least, her world) on her fragile, yet tenacious shoulders. As the youngest member of a single-parent household, Cosette, or Cozy, longs for her father, or just a good man to take his place. Even though they are on welfare and don't have money or nice things, Cozy and her two sisters are happy because Ma has a knack for making little things special, but Cozy still feels like something's missing.
One day at her friend's house, she meets Ken, a handsome Air Force man. Because Ken treats her like an equal instead of a little kid, Cozy quickly comes to like him, and decides he can become a member of her tribe – a group of people Cozy cares about and wants to keep in her life. She also makes the fateful decision to introduce Ken to Ma. It's a decision that will change all their lives, and will haunt Cozy for years as she pins herself with the responsibility for their subsequent struggles. Life for her and her sisters becomes one drawn out nightmare as Ken reveals his dark side, a side Ma refuses to acknowledge, and a side of which Cozy sees the worst.
The author brilliantly shows us the fear, guilt, bravery, and growing spirit of young Cosette as she struggles to trudge through the troubles she brought on her family. Wiser from experience, she quickly learns to discern those who can make her stronger from those who would beat her down, and her enduring alliances will pull her through. We see Cozy's maturity blossom as she fights to keep her world from tearing her apart.
Even through her pain, Cozy wants to forgive, and holds out hope that things can be better, and people can change. Through her resilience, we learn it is possible to make unbearable situations better, bearable.
Griffith does an amazing job of drawing the reader into the story, creating a distinct environment for the tale with her visceral descriptions and Cozy's powerful voice. She is truly a gifted storyteller, and I hope she finds great success with Cosette's Tribe. It's one of those stories you want to share with all your friends, even before you've finished. So, I highly recommend this wonderful book. I'm so glad I found it.
Four Stars
Eva, a fresh college graduate, moves cross-country to begin her life as an adult in the Big Apple. Along for the ride is her side-kick, Cory, the gorgeous male-model-roommate. Before she starts her job, Eva meets Mr. Dark and Dangerous while she's timing her commute. Sparks fly from the start, but Eva doesn't want a man in her life. Come to find out, Mr. Dark and Dangerous not only works in the same building (she keeps running into him in the elevator…wait…what?), but he also owns the building. Gideon (Mr. Dark and Dangerous) tells Eva almost from the start that he wants to fuck her, and he'll do anything to make it happen. Just like Eva, he doesn't want a relationship – doesn't even want to date – just wants to fuck. Within the first few days of Eva's new job, her boss is awarded an advertising campaign for one of Gideon's products, a maneuver allowing Gideon to see Eva, even though she hasn't determined to stay away from him at this point.
 Neither wants a relationship, but they can't ignore their sexual attraction. They agree to become casual sex-mates, but of course, they can't keep their emotions out of the affair. Within a day or two, they are madly in love and trying to learn how to be in a normal relationship (hmmm). Both have horrific tales of sexual abuse in their past, making 'normal' seem out of reach. Despite their both being wealthy and beautiful, they have debilitating insecurities which are sure to drive them apart. Jealousy and petty misunderstandings fuel the scorching intensity between the pair, and the reader can only hope the couples counseling they seek a few weeks in, can make everything alright between them.
I'm really struggling with how to rate this book, or even where to begin a review.  I'm like a jurist asked to ignore the gory pictures of the body and the inadmissible taped confession of the killer. How can you talk about this book and not draw comparisons to 50 Shades of Grey? While 50 Shades began as Twilight fanfic, I'm convinced Bared To You began as 50 Shades fanfic, but James did a better job of disguising it. Don't get me wrong, Bared To You was incredibly hot, and I didn't have to force myself to read it, but it was so ridiculously like 50, I was nearly banging my head on the wall at times, and couldn't keep from laughing at the mounting, coincidental similarities.
At first glance, you might say Sylvia Day is a much better writer than E.L. James. She doesn't repeat as much, is more consistent, and has more than a few memorable lines, such as: He was the kind of guy who made a woman want to rip his shirt open and watch the buttons scatter along with her inhibitions.  So, this should give Day the edge, right? Not so fast. Though James has plenty of annoying writerly habits which Day skillfully avoids, Day didn't drag me along through her story the same way James did, as though I had no choice but to follow. Eva and Gideon never become beloved characters to me, while Christian and Anastasia could compel me to openly weep.  Day lacks that certain something to completely pull me in as a reader. Therefore, I will stick her with four stars (hmmm, same as 50…). Would I give more if I'd never set eyes on 50? We'll never know.
Five Stars
Newly divorced and unsurprisingly bored with her toys, Summer Daniels decides it's time to pursue physical satisfaction beyond her own hand. She places a personal ad on the Internet, and after sorting through an avalanche of horny guys without substance, Summer settles on Mark as the man she will meet in person, and possibly spend a sensuous, carefree one-night-stand with. After a few drinks and some stimulating conversation, Summer is willing to take that next big step, but Mark has other plans. While he isn't looking for any kind of commitment either, he does want more than one night of hot sex. Summer has to decide if she can trust a man she barely knows to expand her sexual horizons, or if she should cut her losses and keep looking.
Summer's Journey is one of those stories parked on my Kindle (free download), untouched for months, until today. I knew from a review that this story was a tease, and I was a little reluctant to be teased. This afternoon, however, it fit the bill for a quick read. My general rule for selecting stories is to read the first few pages to see if I'm sucked in. Shluuurrp! It sounded kind of like that. The story and writing were strong, and it doesn't take much more than that to capture my interest, so Summer's Journey definitely met my basic requirements, and then some. In a few places, the dialog felt a little awkward and stiff, but beyond that, my only complaint would be that it was indeed a tease. Did it work? Yes. I want to read the next volume — I'm anxious to see what happens between Summer and Mark. Will I? I haven't decided. The price for such a short story usually goes against my eBook spending limit. In that respect, it remains to be seen if the tease actually worked.
Four Stars
For a long time, I saw this book (and then its sequel) atop the erotic best sellers list on all the relevant sites. I didn't pay it much heed. Then came the mainstream praise and criticism. Finally, I decided to see what all the fuss was about. Being a Internet 'scanner' more than a reader, I will say the only review of this book I've read in its entirety was by Remittance Girl. The story focuses on Anastasia, a gawky college senior on the cusp of graduation, and her fortuitous meeting with Christian Grey, the eccentric, young billionaire du jour.
From their first encounter, we see sparks fly between the improbable couple. Anastasia is immediately flustered and smitten with the above-and-beyond handsome young entrepreneur. Unbeknownst to her, he is equally taken with her shy and awkward ways.  After a few more 'chance' meetings, an unlikely relationship begins to develop. Christian attempts to warn Anastasia away from him, telling her he's 'fifty shades of fucked up,' and he's no good for her. All this while he stalks and woos her. When they both finally put their cards on the table, we find out that Christian truly is fucked up – a wayward dominant in search of a pliant submissive. What we learn about Anastasia is equally shocking. At twenty-one, she has never been properly kissed, much less had any kind of sexual relations. Yes, a virgin. She's been so engrossed in her studies and historical romances that no boy/man has ever put a bleep on her romantic radar. Until Christian. Much of what I've heard says that Christian convinces Anastasia to commit to becoming his submissive, or sex slave for a set period. In actuality, it's not that cut and dry. There is a lot of back and forth, give and take in the negotiations – most of the novel consists of this buildup, and no contract is ever signed. Anastasia wrestles with her conscience quite a bit, working to determine if she's up to the task, and if it's worth it to be with the man she is falling in love with. The book starts with a good hook and pulls me in very nicely. There are scenes that have me rolling with laughter.
The characters at times seem strong and well developed, but at other times, regress to cardboard cutouts. Both the main characters are mature beyond their years. It's hard to believe that at 27, Christian is as rich and affluent as he is. As a naive 21 year-old, Anastasia reads more like a 30 year-old non-virgin. A few secondary characters start out strong, and then conveniently disappear for the rest of the novel, which is a shame – I would have liked to learn more about them.
Most of this review is not going to sound very positive, but I'll tell you right now, even with all its faults, I couldn't put the book down and couldn't get to the end quickly enough. About a third of the way into the book, I learned Fifty Shades began as fan fic based on Twilight. I can see the similarities, even though I haven't read Twilight. I have, however, been subjected to the movie, and can easily draw the parallels. Even more than Twilight, I see the author drawing from Pride And Prejudice (the movie, not the book). In fact, you will find some of the dialog from the most intense scenes between Mr. Darcy and Elizabeth Bennett worked into Fifty Shades – not verbatim, but cleverly rearranged. I found so many of the same phrases and word choices, the book had me in stitches at times. Which brings me to my next issue: the book is written by a British author about Americans in American cities, but there are so many British turns of phrase as to make the book sound overly formal at times. The author jumps around between modern American language, to 19th century expression, ala Jane Austen, and then to contemporary British jargon. It was a little distracting.
The sex scenes were very erotic and well done for the most part (great buildup), but barely touched on the BDSM aspects the book touts. I haven't read much BDSM erotica, so I was hoping this would be a good introduction. I was disappointed. The writing was … I don't know what the writing was. Much better than a lot of what I've read in the erotic genre, but it wasn't consistent. Sometimes the author did very well, and I found myself thinking, "Wow, this isn't half bad," but then, sort of like the character's regressions, the writing regressed to mediocre. Would I recommend the book? Sure. Will I give it five stars? No. Though I was completely drawn into the story, there were just too many inconsistencies and too much 'borrowing' from other works for me to give it an absolute thumbs up. I will give it four stars because I couldn't put the damn thing down once I started. 🙂
Five Stars (More if I could)
Sarah, always the quiet wall-flower type, leaks information from her high-ranking government job to a reporter who has just rocked her world like none before. She knows it was the right thing to do, but guilt has her wondering if her lust, not her morals, led the way. And what about the man who coaxed the information from her? Were his attentions and passion part of a plan to coerce information, or is Jack just as infatuated as Sarah? Wow. Wow. Yes, deserving of two 'wows.' From the start, this story had my heart pounding in a cycle of fear, paranoia, and pure sexual excitement. Max Sebastian had me on the edge of my seat throughout – for more than one reason. I feared for Sarah's heart, job, and possible ruination. I have never read such an exciting erotic short story. Kudos to Max Sebastian. I am a fan. For the time being, this is a free download on Smashwords. I suggest you download it A.S.A.P.
Four Stars
The excellent descriptive writing and sexual tension (the kind that makes you squirm) in this novella kept me racing through to the end. Sadie, over-worked and under-sexed, is faced with the opportunity to make her dreams come true with her long-time friend, Paul. Over the years, each has harbored a secret crush on the other, but neither of them have ever acted on their feelings. Paul finally decides to force the issue and try to make his fantasies about Sadie a reality.
The build-up to the climax in this book was great – definitely kept me turning the pages- and the sexual chemistry between Sadie and Paul was excellent. The only things that bothered me were, 1.) Some of the progress made between the couple, i.e. innuendo that one had feelings for the other, would be negated in the next scene- like it never happened. Sadie can admit to herself that Paul might be interested, yet is shocked by similar revelations in subsequent scenes. 2.) The climax, or menage scene, begins with a bang (no pun intended) but kind of peters out after that, in my opinion. It was still hot, but after the build-up and beginning, I expected more. The secondary characters were fantastic, each solidly drawn and unique, and I look forward to reading about them in other books by Ms. D'Abo. While the writing in this book was commendable, parts of the story lacked that extra oomph to make it a stand-out work for me. I am, however, eager to read more from this author.
Five Stars
Read the excerpt to this book…reluctantly. Shifters, bears and/or bunnies, aren't a big thing for me. I read one excerpt, then had to go find a longer one (getting sucked in), then bought the book. Read it in one sitting. Loved it! I love the author's humor, which she weaves in and out of the story perfectly. The characters were great, the passionate build-up was amazing, and the sex was hot, hot, hot! I've read a few other shifter stories from Ms. Langlais, of the werewolf persuasion, and enjoyed them immensely. Bunny and the Bear, in comparison, did not disappoint. My only criticism would be a few typos and wrong words here and there- nothing that made the story any less enjoyable though.
Five Stars
Loved this story and how the two main character grow from start to conclusion. Aylia and Jaro get off to a very rocky, yet sensual, sexy beginning, each learning a little more about who they really are the more time they spend together. Both have very limited and concrete expectations of how their lives should be, and are reluctant to change, but finally learn through each other that life can be so much better when you open your mind and expand your horizons. Fantastic characters, great story, and super hot sex makes this a five star read all the way!
Five Stars
From beginning to end, this story captivated my imagination. Historical Erotic Romance is not my typical fare, but Raine Miller has me asking myself, "Why isn't it?" Good question. With stories like this to entice me, I may go looking for more. The story has a fairy-tale quality, yet the characters each have dark secrets which make them less than perfect, but those secrets give the characters depth and make them so much more real. Marianne cannot bring herself to accept all Darius wants to give her because past failings make her feel unworthy. Darius, on the other hand, fears that Marianne will reject him if she discovers he used less than honorable tactics to claim her as his own. A great story with extra hot sex will keep this book in my frequently-read list.
Five Stars
Wow. I loved this story. Always one of my favorites from Greek mythology, Ms. Kitt skillfully takes the tale to a whole new level. The characters, Orpheus and Eurydice, were wonderfully drawn and their love depicted with such strength…pulled me in hook, line, and sinker, and made this such a fun read. Story- Great Characters- Loved them all Sex- HOT! Writing- Terrific The story might not appeal to everyone, but it's one I will certainly reread and keep at the top of my shelf.
Two Stars
I can't say I enjoyed this story as well as other offerings by Ms. Kitt. The writing was strong and the sex was hot, but for this long a book, there was too little story and too much sex for my taste. After a while, the sex scenes became monotonous and I was anxious for the story to end. I will gladly read other books by this author, but I won't read any more of the Baumgarters series.
Five Stars
Ellison James does a wonderful job of pulling the reader into his story, right from the start. My intention was to read this in bits, when I had the time, but once I started I couldn't stop! I finally had to force myself to go to bed, and then I finished first thing the next day. I was impressed by James descriptive style, his compelling characters, and his ability to lead me through through the scenes and the story as though I had no choice but to continue reading! Throughout Azra'a struggle with her own deadly needs, I continued to root for her, willing her to learn what she must to find the love she craved. Just when I thought I had Detective Raif Lungren figured out (which I like to think I'm pretty good at), James threw me for a loop and had me back-peddling to see how I had missed it. I love it when a storyteller tricks me, the reader who thinks she is always two steps ahead! Lovestruck Succubus is a fantastic story, and I highly recommend it to anyone who enjoys a good, erotic story with creative depth and an intriguing plot. 5 stars all the way!
Five Stars
Hawt damn! I loved this story- really got my pulse racing and my- well, I won't say what else it did. Ellison takes us into Charlene's world, and shows us her desperate need to break her husband of his fantasy sports addiction that takes too much time away from her. At first, I felt kinda bad for the guy, but by the end, I thought he was a pretty lucky guy! So glad there is more to come in this series, and I can't wait to read them all.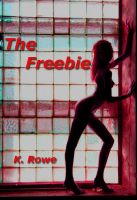 Five Stars
Wow, such a nice surprise. I loved this story, and what a treat that The Freebie was a freebie! So well written that I thought I was along for Mark's adventures in De Wallen and the Red Light District. *Also makes me wish I could still date eighteen year-olds – that kid's got a hard-on that just won't quit* Highly recommended reading, and thank you K. Rowe.